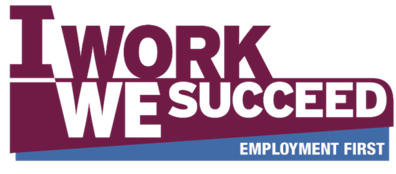 IF ANY OF THE EVENTS YOU ARE INTERESTED IN ATTENDING ARE FULL, PLEASE CONTACT [email protected] TO GET ON THE WAITING LIST!
Please join us for a two day workshop covering the history of Supported Employment, the basics of Discovery when working with individuals who experience intellectual or developmental disabilities, and Person-centered employment planning, with Emily Harris, Debra McLean, and Michelle Furman.
Learning Objectives:
Be familiar with Supported Employment history and the current state of the field,
2.   Be familiar with the Discovery Process, be able to perform Discovery with an employment candidate, and be able to write a Vocational Profile as the basis for Employment Planning, and
3.  Be familiar with Person-centered Futures Employment Planning and able to use it in assisting in developing Employment Action plans.
Additional Information:
The training room is located above the grocery store on the second floor.
Coffee and snacks will be provided each day.  Lunch will be on your own.
In order to receive a certificate of completion for this training, attendees can miss no more than one hour total during this two-day event.
CANCELATION POLICY: If you are unable to attend this training, please notify Emily Harris as soon as possible. Please note that attendence lists are sent to the Oregon State Employment First Office on a regular basis in order to track no-shows.
If you need any additional accommodations please contact Emily Harris, [email protected]  at least 2 weeks  prior to the event to allow for adequate scheduling time.
This training series is put on by the  Employment First/ ODDS Employment team. Registration for this training is open to Oregonians. If you have any questions, please contact Emily Harris. 
ODDS Employment First Office has requested that if you have previously taken this class, email Emily Harris at  

[email protected]

 before you register; to prioritize space for students who have not taken this course.
  Trainers:
Emily Harris, Program Manager, WISE. Emily has had the good fortune to be affiliated with people with disabiliities throughout her life. She has experience as an employment consultant and as a Positive Behavior Support consultant with individuals, families, and employment agencies both in Oregon and Washington States. Emily is committed to the concept of inclusion and full participation, and knows that employment is critical to equity. Emily is a Certified Employment Professional through APSE, is a primary trainer and the new manager for the Oregon Employment Learning Network, and a Person Centered Planning Facilitator. Emily is innterested in creative, innovative, low-tech ways to support people to be independent on their jobs. Emily loves music (especially soul and oldies on vinyl), runninng, spending time with her family, and vintage shopping in small towns.
Michelle Furman, Community Employment Services Project Manager at Shangri-La. Michelle holds a Bachelor's Degree in Health Sciences from Linfield College. Michelle is excited for  the opportunity to help move our communities and individuals forward into integrated employment.  She is a Certified Employment Support Professional with APSE and is a member of the Oregon APSE Board. Michelle is actively involved in her community through facilitating the Marion & Polk Employment First Network and is also involved in the Lincoln and Lane Employment First teams.  She is a strong advocate for integrated community employment and has been developing Shangri-La's Community Employment Services since last July.  Michelle enjoys spending time with her family, being outdoors, camping and has plans on restoring a vintage trailer and a 1966 Chevy truck which will be family projects!
Debra McLean, Senior Program Manager, WISE. Debra is passionate about seeing all people obtain employment. She has been intrigued with community building and person centered planning as a way to see individuals with a variety of support needs succeed in jobs that fit them since 1981. She has worked for the University of Oregon and Oregon Health Sciences University on a number of projects involving people with disabilities and employment .She provides training and consultation on employment and person centered planning in Washington and Oregon. She has taught classes on these topics at Portland State University in the Teacher Education Program and for Highline Community College, Certificate for Employment Specialists.  She has worked with schools, families, agencies, businesses, and individuals, both in the US and in Australia.