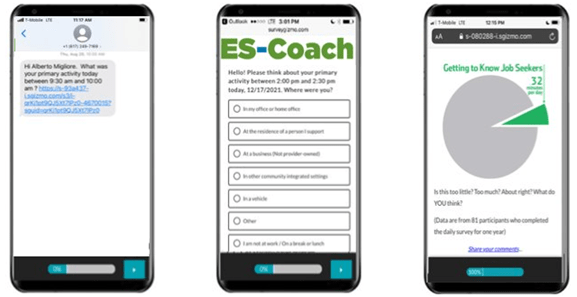 ES-Coach is a web-based application designed to provide data-enabled feedback and micro learning to employment consultants and their managers to help them with implementing best practices in employment supports.
Are you looking for ways to support your team with continuous improvement in employment supports and improve job seekers' employment outcomes?
If yes, we would love to partner with you! We will provide your team with tools to visualize the implementation of supported and customized employment, and support you and your team to leverage the data for continuous quality improvement.
We can help if you:
Manage a team of at least three employment support professionals (e.g. employment consultants, employment specialists, or job coaches)
Your team assists primarily job seekers with intellectual disabilities, autism, and developmental disabilities.
WA State ES-Coach Cohorts

 DDA is funding the use of the ES-Coach for participating agency Employment Consultants from both cohorts through June 2024.  New team members can be added from participating agencies.
Participation is free, but space is limited. Please let us know if you would like to know more about this project by completing a short form and sharing a little about your team:
Click the button below to fill out the form.

After you complete this short form, you will receive an invitation to an Open House on August 24, 2023 at 2:00 pm ET (1 pm CT/ 12 pm MT / 11 am PT). In the meantime, check out the project website for more information.
If you have any questions or need accommodations, please contact  [email protected].