Partners for Work – Rotary District 5030
To engage Rotarians to hire people with disabilities through their networks.
Rotarians can open doors! Partners for Work (PFW) has been a Rotary District 5030 project since 2008. Rotarians from our district have made connections with businesses that have led to over 140 jobs for adults with intellectual/developmental Disabilites.
Our Coordinator, Debbie Moore, connects with Rotarians, clubs, school districts and employment support agencies to identify job opportunities and qualified candidates.
People with disabilities are skilled and capable of working in a variety of jobs in our community yet experience a high rate of unemployment. This is due to their challenge in identifying opportunities and other initial barriers to employment.
Rotarians are often the top people in their companies and play a key networking and leadership role in helping open the door towards paid employment.
Rotarians can play a key networking and leadership role in helping open the door towards employment. This is often as simple as contacting Debbie with an introduction to their own company or that of a colleague.
PFW has a featured seat as a District-level priority and is officially involved in over half of the Rotary clubs in the District. 
Rotary Club Greeters
Twenty-one Rotary clubs have hired greeters through PFW. These year-long "working interviews" are opportunities for transition students to improve work skills, expand their work experience, and earn a paycheck while networking with business people on a weekly basis. 
The PFW greeter can assume many of the duties of club members, such as setting up the room or checking in members at the door. Each club chooses the tasks that are most useful.  One of the most exciting outcomes is when a Greeter lands a paid job directly through one of its members. Such an outcome was realized for Sydney, an Issaquah School District Transition student who went from Issaquah Rotary Club Greeter to Sammamish YMCA.
Rotary Mock Interview Sessions
Rotarians can offer an exceptional experience for Transition students through mock interviews. As business representatives, we can provide an actual interview exercise where students can share their resume, experiences and skills. Rotarians provide students with feedback on their marketable skills and dependable strengths, as well as assess their interview technique. This information is invaluable to students and teachers as they develop their career portfolios in preparation of exiting the school system. Each student will leave with a certificate of completion after being introduced to the club from a Rotarian that interviewed them.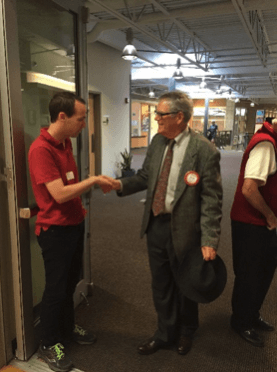 Nicholas, Mercer Island Rotary Club Greeter
Amy, Bellevue Breakfast Rotary Club Greeter