Resa Hayes
Featured Presenter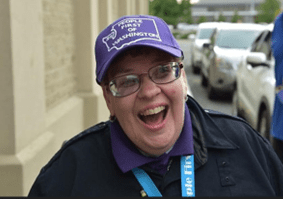 I am Resa Hayes and I've been volunteering as a self-advocate for many years. I have served on a variety of state and local boards and committees, including SAIL, a Client's Rights Committee, and I currently chair a committee that is trying to close the Fircrest School, here in Washington State. One of my favorite jobs was to work at the United Cerebral Palsy Daycare Center.

As a Community Educator for People First of Washington, I work with members one-on-one by checking in on them helping them further develop their own self-advocacy skills. I lead the "Reaching my Own Greatness" and other trainings. I am always available to give input to my colleagues and the general public.

When I'm not out in my community, I love to watch episodes of "I Love Lucy" Westerns and other old movies. I live on my own in the Spokane area with my sweet cat, Tigger.