Rotarians can open doors! Partners for Work (PFW) has been a Rotary District 5030 project since 2008, and as of November 2016, it has developed 81 paid jobs for individuals in King County. This project creates employment opportunities for people with intellectual disabilities by utilizing Rotarian business leadership as a vital link between job candidates and paid work. Our Coordinator, Debbie Moore, works with Rotarians, clubs, school districts and employment support agencies to pull all entities together. Job candidates have learned valuable skills to offer the workplace, yet their employment rate is often very low and many cannot meet the established job requirements set by human resource departments within businesses. Rotarians are often the top people in their companies and play a key networking and leadership role in helping open the door towards paid employment. At the Rotary District Conference in April of 2016, PFW was renewed with unanimous support from the clubs within District 5030 as a District-level Rotary Project. This 3-year renewal affords PFW a featured seat as a District-level priority. As a result of receiving unanimous support for renewal, we are officially involved in over half of the Rotary clubs in the District. 
Lake Union Rotary Club, PFW Fundraiser: Jazz on the Dock
For the past three years, PFW has been selected as the recipient of their fundraiser, Happy Hour for the Good. Their Rotary Club has been a partner with us for five years and are strong advocates for our mission. This is an evening of food, jazz on the dock, networking, and a brief presentation about PFW. Attendees have included Rotarian ambassadors, Advisory Committee members, Greeters and individuals that have secured employment. One year, we presented a new hire with his first paycheck, an exciting and impactful event. Each year this event has brought in approximately $2,000 to our project, as well as many new Rotarian connections.
King County Executive Dow Constantine Leading the Way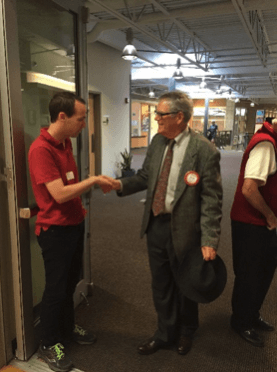 Nicholas, Mercer Island Rotary Club Greeter
Amy, Bellevue Breakfast Rotary Club Greeter
Rotary Club Greeters
Twenty-one Rotary clubs have hired greeters through PFW. These year-long "working interviews" are opportunities for transition students to improve work skills, expand their work experience, and earn a paycheck while networking with business people on a weekly basis. 
"Rotary Partners for Work Greeters" 
King County employment agencies are connected with students, and the weekly club meetings provide a platform for the employment agency to build a relationship with the School to Work student while also making connections with Rotarians. Equally important is the enhanced awareness about PFW as a result of the greeter positions. The ultimate outcome is when a Greeter lands a paid job through this experience. Such an outcome was realized for Sydney Weber, an Issaquah School District Transition student who went from Issaquah Rotary Club Greeter to Sammamish YMCA employee. See more about her story Kirkland Rotary Club
Rotary Mock Interview Sessions
Rotarians can offer an exceptional experience for Transition students through mock interviews. As business representatives, we can provide an actual interview exercise where students can share their resume, experiences and skills. Rotarians provide students with feedback on their marketable skills and dependable strengths, as well as assess their interview technique. This information is invaluable to students and teachers as they develop their career portfolios in preparation of exiting the school system. Each student will leave with a certificate of completion after being introduced to the club from a Rotarian that interviewed them. Rotary Mock Interview Sessions
See the Partners for Work section of the 2018 Wise Annual Report 

 (p. 22)
Interested in learning more?